Sep 18th
2014
By Richard
Posted in Landscapes
Comments 0

Keem Beach, Achill & Back From Photokina Fully Inspired!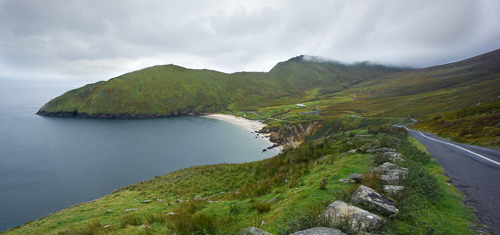 Today's image is one that I took on my recent trip to Achill Island. Keem beach is a beautiful secluded beach at the west end of the island where the road ends. It was taken early in the morning however the light wasn't playing ball with me that morning with too much low cloud. This particular photograph captured best the mood of the morning.
Back from Photokina
Got back late last night from Cologne after another hectic day at Photokina. There is so much hype surrounding mirror-less cameras and it was very evident over the two days. Fujifilm, Samsung, Panasonic, Olympus and Sony are really pushing in this direction with Canon, Nikon and Sigma heavily invested in the DSLR market. Ironically, looking around a lot of attendees had either a Canon or Nikon DSLR with them. Definitely a shift is happening and I suspect as the technology evolves the DSLR will ultimately diminish, however, I don't see this happening overnight, there are still a lot of situations where people are going to be more comfortable with the DSLR vs. the smaller mirror less (for example sports and wildlife demanding very large lenses, the law of physics apply and a wide open f/2.8 500m lens is still going to be a very large form factor, which is difficult to handle on a smaller camera body). At the end of the day they are the tools of photography and it is fantastic to see innovation. For sure the landscape will change but not necessarily in the way the marketing departments would have you believe.
I attended a bunch of seminars on the second day and had the opportunity to meet great photographers who are truly inspiring. Hats off to Fujifilm who had a great line up all day. Great to meet Zack Arias, Alex Lambrechts and Elia Locardi to name a few.
Ok all fired up now and knuckling down to get some first products completed.