Sep 16th
2014
By Richard
Posted in Photography
Comments 0

Photokina – a pulse on the Industry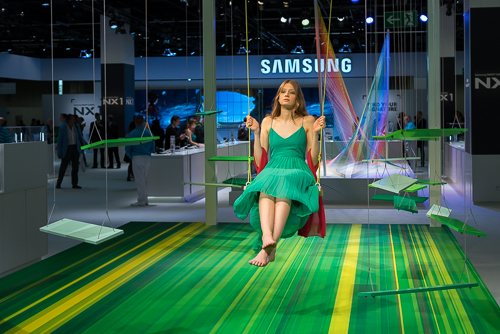 I'm at Photokina in Cologne, Germany, today and tomorrow. This is my first visit to the show and the scale of it is vast. It occupies several very large halls (a number of them have two levels) in the Koelnmesse. Comfortable walking shoes are a must, however, because of it's scale it is not crowded and relatively easy to walk around and meet/talk with vendors.
All the major vendors covering the broad spectrum of photography genres and processes from capture through to output are present. There is something here for everyone. Canon, Nikon, Olympus, Pansonic, Sony and Samsung predictably dominate with significant presence. I'd argue that Samsung had the most impactful booth. The Canon 7d MarkII and Samsung NX1 cameras seem to have grabbed the press highlights. Both very impressive camera systems, the Canon (specs here)very much targeted at the wildlife and sports photographer and the NX1 is potentially another game changer due to it's speed, compactness and 4k video (specs here).
Video has a significant presence with particular emphasis on mobile video (never realised there were so many GoPro clones out there!) and supporting equipment.
There are plenty of world class photographers giving insights and talks across the various stages and several galleries with stunning images scattered throughput the halls. Benjamin Von Wong with his distinctive style provided a super high-energy location lighting session.
Overall Photokina gives you a pulse on where the industry is going, the current and possible future trends. Looking forward to some more research tomorrow!